Penzion Divišov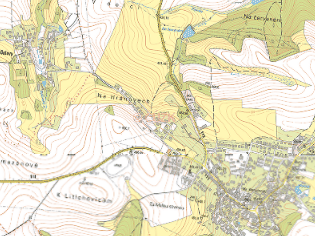 Add a photograph
Related photographs (0)
There is no photo relating to this service. We will be glad if you add one here.
Contact
Dalovská 346
Divišov
257 26
Mobile: +420 777 983 821
E-mail:
info@penziondivisov.cz
Web:
http://www.penziondivisov.cz
GPS: 49,79274863°N 14,86741357°E Minute GPS format
GPS: 49°47'33''N 14°52'2''E GPS decimal format
Attractions nearby
Synagoga v Divišově
The Jewish settlement in Divisov dates back to before the year 1685. The synagogue housing the museum was built in the first half of the 19th century, in the late style of Classicism, with an apsis.

The original church as well as all historical buildings and sights preserved from older days were destroyed in 1742 when almost all the small town, including the church, burnt down. Official record books and the church registry books were also destroyed.

Events in the neighborhood
2. December 2021 18:00

3. December 2021 17:30

Přednáška o dějinách regionu -
Poříčí nad Sázavou, zasedací místnost obecního úřadu
- Workshop
4. December 2021 10:00 - 13:00

---
© 2004–2021 Provozuje
Posázaví o.p.s.
, která vykonává aktivity destinačního managementu v turistické oblasti Posázaví.
Využíváme publikační systém Apollo. Projekt modernizace systému Apollo byl realizován v roce 2019 za přispění prostředků státního rozpočtu České republiky z programu Ministerstva pro místní rozvoj. Projekt Modernizace systému webového serveru byl realizován v roce 2020 za přispění prostředků Středočeského kraje.