Penzion Nad hradem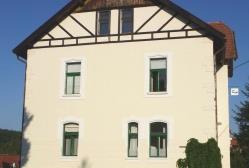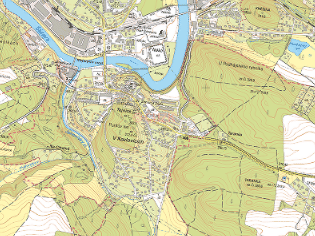 Kontakt
Benešovská 46
Týnec nad Sázavou
257 41
Mobil: +420 723 495 649
E-mail:
krbec.jan@email.cz
Web:
http://www.penzionnadhradem.cz
GPS: 49,82887324°N 14,59563282°E Minute GPS format
GPS: 49°49'43''N 14°35'44''E GPS decimal format
Služby
Apartment 2 + kk is offered as a seasonal accommodation for max. 6 persons, consists of equipped kitchen with kettle, microwave, stove and fridge, bathroom with shower and toilet, double room (with extra bed), second double room ( with extra bed), also with TV and wifi.
Smoking is prohibited in all areas.
Parking and sitting in an enclosed garden near the house.
The town has a restaurant, wine bar, post office, shopping center and open-air cinema.
Jak se k nám dostanete

Railway and bus station including PID is about 1000m. Bus station for connection with Benesov is directly near the house.
Attractions nearby

Týnec nad Sázavou has a very long history. Its name itself indicates that at the place where the Týnec Castle is located these days – on a high cliff above the river – there was a fortified settlement in the ancient times, the so-called Týnec ("enclosure" or "fortification" was "Týn" or "Týnec" in old Czech). There is a probable connection between the settlement and an old trade route leading from southern Bohemia through the town of Sázava and along the Kostelec Castle to Prague.
-
Týnec nad Sázavou

Původně gotický kostel ze 14. stol. byl v roce 1755 barokně upraven a doplněn o plochostropé kněžiště. V roce 1872 byla loď kostela opatřena současnou křížovou klenbou. Dnes farní kostel.
-
Týnec nad Sázavou
Events in the neighborhood
7. prosince 2019 10:00 - 16:00

Adventní dvorky -
Netvořice, U Kočky za komínem
- Markets – fair
7. prosince 2019 13:00 - 18:00

Vánoční trhy -
Lešany, Zámek
- Markets – fair
7. prosince 2019 14:45 - 17:45

---
© 2004–2019 Provozuje
Posázaví o.p.s.
, která vykonává aktivity destinačního managementu v turistické oblasti Posázaví.
Využíváme publikační systém Apollo. Projekt modernizace systému Apollo byl realizován v roce 2019 za přispění prostředků státního rozpočtu České republiky z programu Ministerstva pro místní rozvoj.