BioFarma Dolejší mlýn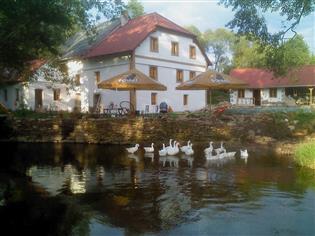 Contact
Kamberk 82
Kamberk
257 06
Mobile: +420 777 938 568
E-mail:
firti@seznam.cz
,
linda.nary@volny.cz
Web:
http://www.bioprodej.cz
GPS: 49,63862157°N 14,84835542°E Minute GPS format
GPS: 49°38'19''N 14°50'54''E GPS decimal format
Book your accommodation

Attractions nearby

Do you know what a classroom looked like in times when our grandmas and grandpas went to school? What were the conditions that people lived in and what instruments and farming technology they used? Come to Kamberk and see
-
Louňovice pod Blaníkem

Muzeum včelařství Podblanicka vzniklo v roce 2003 z popudu učitele včelařství Antonína Zrna a několika jeho kolegů. Podnětem ke vzniku muzea byla plánovaná likvidace včelařského domku v Benešově, kde byly umístěny předměty ze včelařské výstavy a sloužil jako archiv okresního výboru včelařů.

The first written reference to the site dates back to 1149 and mentions a convent of the Premonstratensians, founded in the so-called Moon Valley. The Lounovice convent was ruined in 1420 by the Tabor forces that then dominated the whole region. The museum displays findings of the archaeological research of the convent, installed in the château by the National Museum in 1981.
Events in the neighborhood
25. January 2020 19:00

XIII. Reprezentační ples -
Zruč nad Sázavou, společenský sál Domova pro seniory
- Celebration
27. January 2020 19:00

29. January 2020 18:00

---
© 2004–2020 Provozuje
Posázaví o.p.s.
, která vykonává aktivity destinačního managementu v turistické oblasti Posázaví.
Využíváme publikační systém Apollo. Projekt modernizace systému Apollo byl realizován v roce 2019 za přispění prostředků státního rozpočtu České republiky z programu Ministerstva pro místní rozvoj.