Rekreační středisko "U Kocoura"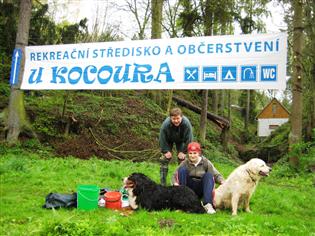 Kontakt:
Hvozdec 90
Poříčí nad Sázavou
25721
Mobil: +420 731 601 176
E-mail:
f.sladek@seznam.cz
GPS: 49,85160894°N 14,65934195°E minutový formát
GPS: 49°51'5''N 14°39'33''E desetinný formát
Služby
Situated in the midst of the woods lining the bank of the Sázava river, nearby Poříčí nad
Sázavou, 30 minutes driving from Prague, the recreation centre " U KOCOURA" is offering accommodation and catering services not only to the watermen but also to families with children, bicyclists, companies for the purposes of training, sports clubs and all the others.
Upon request, the catering can be adjusted from full board to half board, grilling in the outside
premises, picnic. The restaurant is found in the central building, with an outside grill nearby.
The accommodation is provided in comfortably equipped walled bungalows. Showers and toilets are located near the bungalows.
There are many places of interests in the surroundings where sport activities can take place: water tourism on the Sázava river, a net of bicycle-routes, a roofed tennis hall.
???:
11:00 - 22:00 (20.4. - 30.9.)
Přidej fotografii
Související fotografie